Unexpected Reels Hashtags to Go Viral: Juicy Boost for 2023
While Instagram Reels are steadily making their way to the pinnacle of digital marketing, not using the potential of this simple, yet highly effective marketing tool would be a sad mistake. Do you want to know how to harness these short videos for promoting your brand, growing your community, and gaining more followers? Consider using catchy Reels hashtags.
Looking for quality hashtags requires a lot of time, patience, and brainwork. If you want to save these precious resources for other endeavors, why don't you outsource hashtag generating to a tireless web-based service? Inflact's AI-powered tool will help you find the best hashtags for your Reels, Stories or regular posts.
One of the great things about this hashtag generator is that it offers tags grouped by frequency and provides the use count for each of them. Having the stats at hand is very convenient for picking hashtags with various degrees of popularity.
The service is easy to use. All you need to do is to type in your keyword, upload an image or insert a URL in the input bar, sit back a couple of seconds while the tool is doing its job, and select the best hashtags for your IG Reels. Be sure, you'll have enough variants to choose from.
We selected five top search requests for Reels hashtags and tested this cutting-edge hashtag finder for Instagram. We're pleased to say that generating trending Insta Reels hashtags is fun. See what we've got.
Food Reels Hashtags
You'd better grab a bite before starting to play with food hashtags. When you get your tags generated, you'll definitely want to search the top IG posts they're used in. Predictably, you'll be seeing tons of mouth-watering pics.
Our favorite tags for food are #foodasmedecine (861k+) and #foodforever (nearly 94k). The former can absolutely justify gourmandizing given that almost any food contains at least a tiny bit of good for your health, while the latter simply praises eating. Well, we like to think so. Pick your favorite hashtags and check if they can make your Reels go viral.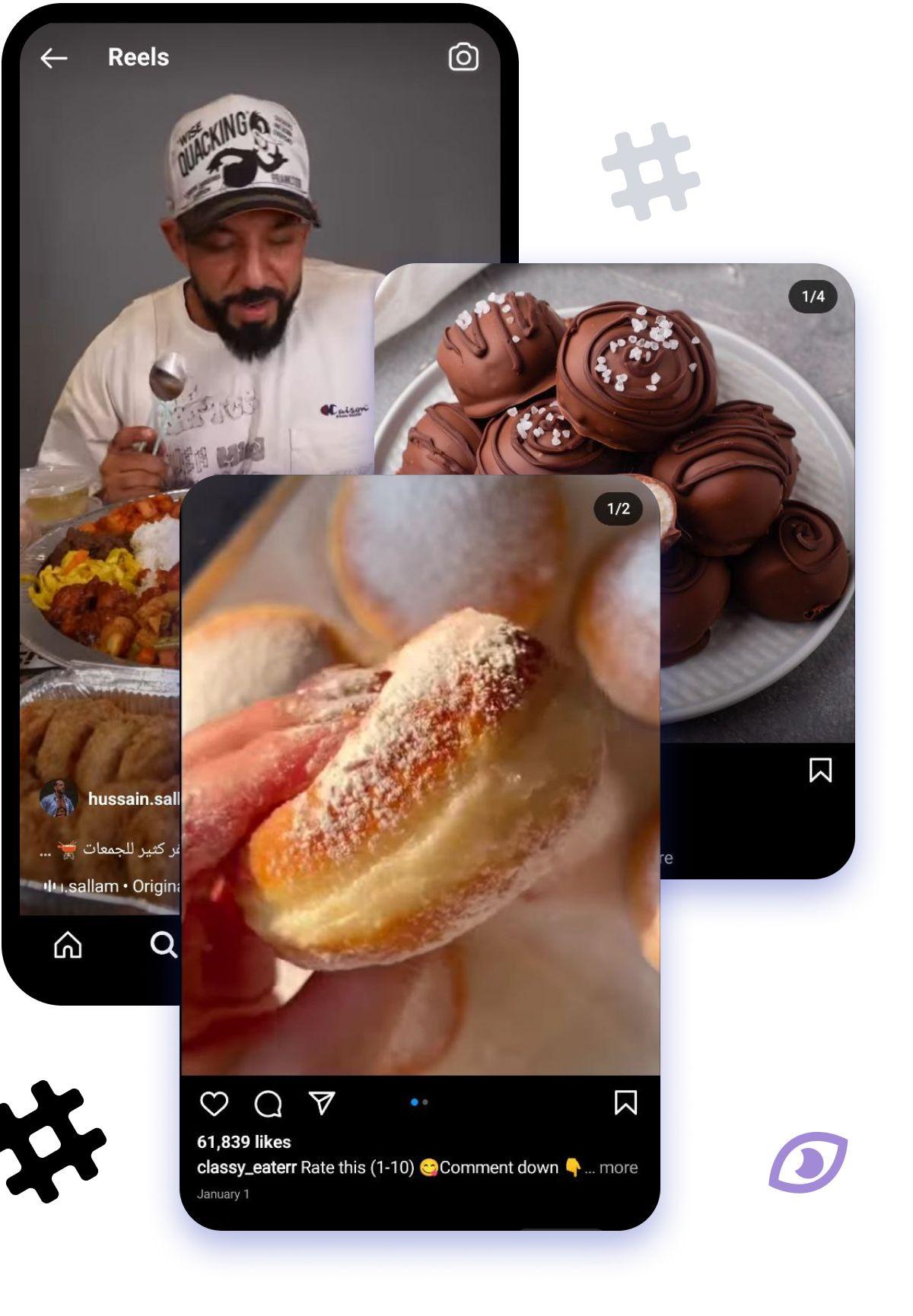 Fitness Hashtags for Instagram Reels
#fitnessfood (6m uses) might as well go to the above topic, but we decided to put a period to overindulgence and focus on being fit. Our second choice is #fitnessaddict with 45m of uses. What would be your picks for top fitness Reels hashtags?
Travel Hashtags for Instagram Reels
Some may argue that travel posts are the most inspirational and motivational. Well, that is so true. We do think that it's the best content ever, and our choice for this topic is #traveloften with 877k uses from the average group because what can be better than traveling? Right, traveling often.
Moms addicted to traveling surely know how to go viral on Instagram. If you happen to be one of them, don't forget to put #travelmum (96k) under the photos of your little ones and you climbing mountains or walking along the beach.
Funny Reels Hashtags
Let's not overthink this one. The best hashtags for funny Insta reels are plain to see — just combine 'funny' and 'Reels'. Interestingly, adding a couple of LOL emojis to the super-popular #funnyreels (7.45m) gives you quite a rare #funnyreels😂😂 (94k).
Dog Reels Hashtags
Cat people can skip this part as here we're going to talk about popular Reels hashtags for dogs. It's a shame to watch videos of your four-legged friends all alone, so put your pets on Instagram and let your posts gain millions of views and likes. Let's see what Inflact's tool has for dogs.
Once featured on the platform, canines cease to be merely dogs and become #dogsofinstagram (almost 300 million uses). However, you should think twice before putting this highly frequent tag to your Reels — your content might get lost.
We did some geography, and, based on what Inflact's hashtag generator came up with for dogs, they're featured in the west almost as frequently as in the east — #dogsofvancouver has 650k of uses and #dogsofsydney has about 777k. Meanwhile, from north to south, the number of tagged dogs plummets from 967k (#dogsoftoronto) to just 93k (#dogsofmanila). Why don't you try to generate dog hashtags for your location and see the stats? We were surprised to discover, for instance, that for 'dogs' plus 'Detroit' the tool has zero tags.
Finally, if you don't feel like testing the generator, you can simply visit the Inflact trending Instagram hashtags page and see if it has anything suitable for you.
Conclusion
To sum it all up, in the times when social media play a vital role in business promotion, you'd better follow the trend. Instagram Reels offer wide marketing opportunities, and hashtags can extend them even further. Experiment, add various tags and enjoy unexpectedly awesome results.